Jump to: When, Where, and How.
When
Call for Session Proposals: 15 February 2023
Session Proposal Deadline: 30 April 2023
Decision on which symposia will be featured in conference: 14 May 2023
Call for Abstracts: 1 August 2023
Abstract Submission Deadline: 1 October 2023
Presenters Notified of Session Assignments: 15 October 2023
Conference Session Schedule Announced: 1 November 2023
Full Conference Programme Announced: 1 December 2023
In-person registration starts: Afternoon of 15 December 2023
Third AsiaEvo Conference, Singapore: 16–18 December 2023
Optional post-conference excursion day: 19 December 2023
Where
All talks will use three main lecture theaters (LT27, LT28, and LT29) in the Science Campus at NUS (27 Science Drive 1, Singapore 117541). The posters will be displayed in the foyer directly outside these lecture theaters, which is a short distance from an eating area with coffee and tea stalls. The nearest subway station is Kent Ridge MRT.
The campus dormitories are located at University Town, National University of Singapore. University Town features food outlets and residential units. Travel between University Town and the Science Campus can be done by foot or by taking the D2 Buses.
Residential services in UTown are generally less expensive than hotels, and includes both single rooms and shared apartments that can accommodate up to six guests. Guests who opt for off-campus hotel accommodation can reach UTown via public buses, taxis, or by way of two MRT stations (Kent Ridge MRT and Dover MRT).
---
The central building at UTown with Starbuck on the ground floor:

---
LT27, as seen from Lower Kent Ridge Road: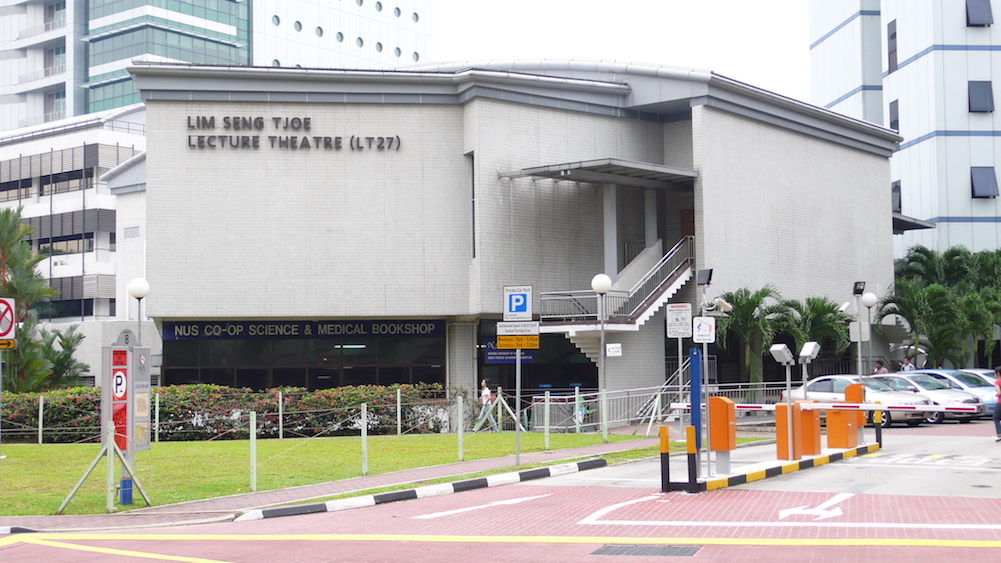 ---
An example lecture hall interior:
---
Map Showing the Location of LT27:
---
Map Showing LT26, LT27, LT28, LT29 and Foyer: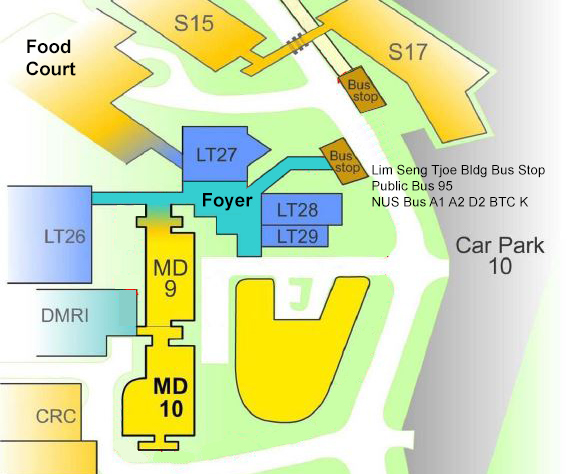 ---
How
International flights available through Singapore Changi Airport
Travel options from Changi Airport:

Taxi service (~35 minutes, S$35)
MRT Green Line to Buena Vista, Orange Line to Kent Ridge Station, bus D2 (~70 minutes, S$3)

Public bus and train services now accept contactless credit cards, cell phones, and watches (e.g. ApplePay with Apple Watch)

Swipe a contactless card as you enter the MRT and swipe again on exit
Enter a public bus from the front door and swipe your contactless card there
Exit a public bus from the rear or middle doors, and swipe before you exit so that you are only charged for the distance travelled