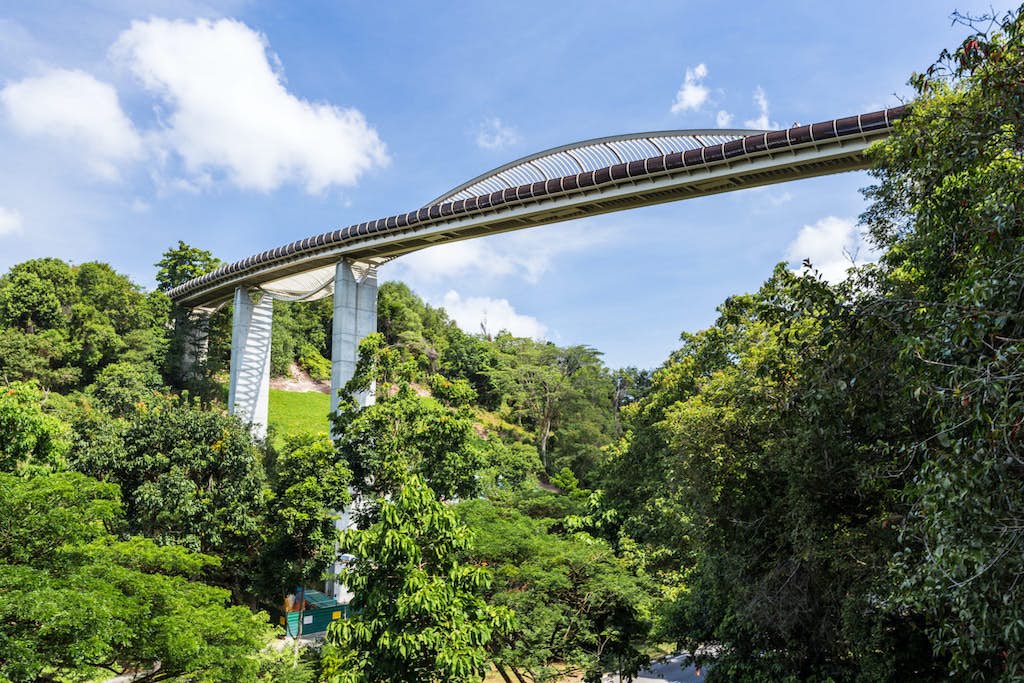 This is a 12km hike along a ridge of connected parks from NUS to VivoCity, with views of parkland and skyscrapers. The Henderson Waves pedestrian bridge is considered a prime location for sighting migratory birds depending on the season. Lots of food choices at the shopping mall at the end of the hike. Be sure to bring a hat and water. Return by MRT or taxi.
The hike starts at Kent Ridge MRT station. Walk through the station, leaving through "Exit B" at South Buona Vista Road. Continue walking up South Buona Vista Road and make a left on to Science Park Drive. Make a right just after a large blue steel-and-glass building and follow the path between 16 and 18 Science Park Drive. Enter the park down a narrow path that parallels a creek. Walk past Kent Ridge Park Pond and make a right up a long flight of stairs going up the hill to reach Vigilante Drive. Follow Vigilante Drive towards the south east along the ridge to reach the Canopy Walk. Take the Canopy Walk to Pepys Road, and then an immediate right and right again, follows stairs down to the HortPark. Exit the at the eastern end of HortPark and take the pedestrian bridge over Alexandra Road. (At this point, if anyone's exhausted of hiking, they can catch buses 57, 61, 93, 97, 100, 166, or 963 directly to VivoCity). Continue following the Southern Ridges canopy walk to its end. Take a right on Telok Blangah Green and follow it east to Henderson Waves. Follow Mount Faber Lp. towards the Mount Faber Station Cable Car. Continue past the cable car. Just before reaching Mount Faber Carpark B turn right and follow the path and steps down the mountain towards Harborfront MRT. Enter the MRT to pass under West Coast Highway and make your way into VivoCity. The suggested eating area is Food Republic on the top floor.
All excursions are "self organized." If you're interested in the Southern Ridges on Tuesday, please post a topic title below (e.g. "I plan to leave at 10 AM, people are welcome to join me") and include logistics and contact information in the body of your topic. Other's can "sign up" with your party by adding comments to your topic. Alternatively, comment on someone else's topic to join their party.
Oh, bother! No topics were found here.
You must be logged in to create new topics.